Giving back
"I want to give back, I need to give back, we need to give back."
This is how I ended my speech when I ran for Community Service Chair. As the Community Service Chair of the MBA Association at The University of Alabama, I'm responsible for organizing community service events and providing the MBA students with opportunities to give back to the community. After an event, I usually share some pictures and a recap of the event with my Projob colleagues. This started a conversation on the lack of community service among high school or university students in The Netherlands. Why is there such a low emphasis on giving back to the community?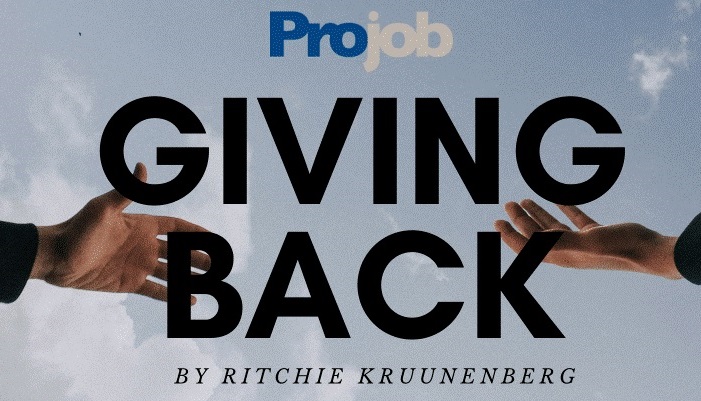 Option
In the Netherlands, high schools have the option to require students to do a "non-profit internship" which requires students to participate in multiple community service events such as organizing a 5K run or taking the elderly for a walk. From the years 2011–2015 , a law was implemented to require the internship for all high school students, and students had to participate in a minimum of 30 hours of community service in order to move on to the next school year. Even though many students experienced the internship as an educational experience, the internship became optional again.
According to Education Commission of The States, only two states, Maryland and the District of Columbia, require volunteering hours. High schools in other states have the option to require community service hours to graduate but most schools in other states are highly encouraged to implement a community service requirement. Some high schools for example require their students to complete 100 to 150 hours of community service over four years. Even though the ruling is similar in both countries, high schools in the US are more likely to encourage their students to volunteer and community service seems to be a lot more present.
Find Your Purpose
I'm not going to go into depth on the discussion whether high schools or universities should require community service hours or not, but I do believe it's important to find your own purpose of giving back to others.
When I ran for Community Service Chair for The University of Alabama's MBAA executive board, it was important for me to explain to others why I wanted to give back to a community that I've only joined a couple of years ago. I have always felt extremely fortunate to have gotten the opportunity to play tennis for The University of Alabama plus for being a part of the MBA program, but the most important incentive for me to give back is because a lot of people in the Tuscaloosa community have made this place, far away from home, my second home.
When given the chance to select your own type of community service, it's an excellent opportunity to volunteer for an organization that is closely connected with your future desired career. Volunteering among people who work within your future desired career gives you the chance to build your network. Besides the connections, students will be exposed to work settings that require a certain skill set.
It's important to find a cause or event that you will enjoy giving back to. For example, every single student that volunteered at the retirement home to play bingo wanted to come back as soon as possible to organize another bingo night. It was a small act of kindness but the students noticed the joy the residents got out of it.
Sometimes it is tough to see the benefits to the community after volunteering for a day but the change in the community will be visible over time. It can be rewarding to consistently volunteer for a certain project to see the end result of all the hard work. Every single bit of help is a step into the right direction. After all, volunteering gives you a deep sense of pride and civic responsibility.
Build your resume
Besides the benefits mentioned above, serving the community can be a difference maker on your resume. In the Netherlands, community service or volunteering activities could be a great addition to your resume since others are less likely to have any philanthropic activities on their resume. It will make you stand out by showing you used your free time wisely by supporting a good cause. In the US, community service is promoted as a resume booster, but it seems to hurt you more to not participate in any community service events since everyone is doing it nowadays.
From organizing a bingo night at the retirement home to helping build a house with Habitat for Humanity to making dinosaur masks for little kids, it was all equally rewarding and enjoyable. Whether your school requires you to be involved in the community or not, I encourage you to take this step yourself. As Howard Zinn said, "Small acts, when multiplied by millions of people, can transform the world." Besides the benefits of boosting your resume and personal growth, the appreciation of others is invaluable. "I want to give back, I need to give back, we need to give back!"
Projob believes in the importance of supporting others and connecting with the community. In the next couple of months, all Projob employees will volunteer at an organization called "Jarige Job". Lots of people are used to celebrating their birthdays with presents, surprises and birthday parties but unfortunately not every family can afford this. "Jarige Job" hands out "birthday boxes" full of presents, balloons, cake and other surprises to give every kid the birthday they deserve.