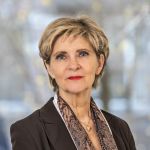 Marja Beumer
Energy, Empathy, Socially entrepreneurial, Connector
Director / Founder
Marja Beumer is the Managing director and owner of Projob. She loves her role as entrepreneur, coach and all- round inspirational role-model.
It all began in the 70s when Marja was inspired by the potential of a career in recruitment: "In 1973 I was working in a large temping agency. My first ever placement was a success. I came to the sudden realisation that I could create value for others, not only for the candidate I had placed, but for all parties in the chain. That realisation changed everything for me and to this day my motto is the same as back then: "Creating happiness via good connections."
This is the level of quality that Marja wishes to see reflected in Projob's services. When the end game does not result in happiness all round – what it is all about for Marja - it is not a job well done.
Others refer to Marja as a connector of people, someone who always gets the best out of others, even those she does not know well.
What inspires Marja and what motivates her? "I have been following lectures on Business Spirituality by Paul de Blot at the prestigious Nyenrode university for the past 12 years. These lectures have given me a great insight into the importance of leading a company using your heart and head combined with your goals. It has affirmed my belief that companies have a responsibility to ensure that working relationships are based on trust, freedom and mutual respect. Only in this way can high-level results be achieved."
The passion Marja has for her work in which everything revolves around people means that she sometimes loses track of time, however this is always the case when it comes to love – you can never get nor receive enough of it and time is immaterial!