Day in the Life of a Social Media Coordinator
I'm Ritchie Kruunenberg and I'm the Social Media Coordinator at Projob. In this blog, I will take you through a day in the life with me, specifically my Thursdays!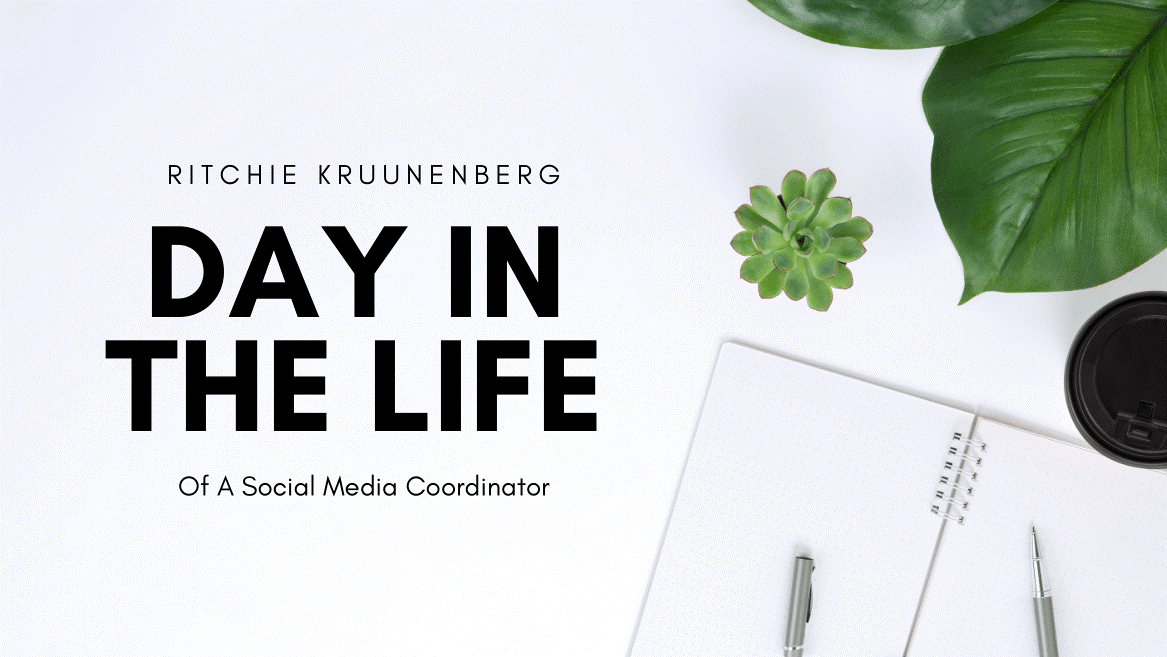 At 6:30 AM, my lovely alarm goes off and I wake up with a big smile on my face, drink some lemon water, do a quick workout and meditate #Fitboy. NO, I DON'T DO THIS HAHA! My alarm goes off at 6:45 AM, I snooze until 7 AM, then I snooze until 7:15 AM, might jump into the shower, brush my teeth and then head over to the kitchen #procrastination. I make myself a beautiful bowl of oatmeal that I share with my friends on Instagram and Snapchat, because "The phone eats first!" right? Fresh and ready to start the day, I open my MacBook and the day begins!
Facetime
I'm taking you through my Thursday specifically because on Thursday I have a Facetime call with Linda. As some of you know, I work remotely for Projob from Tuscaloosa, Alabama because I'm pursuing my MBA degree here at The University of Alabama #RollTide. At 7:30 AM on Thursday with a time difference of 7 hours, Linda already working towards the end of her day and I'm just starting, we start the hour with talking about what's new at the Projob office. Besides that, we review the performance of our posts of the previous weeks and then fill in our content calendar for the upcoming week. The hour is over before we know it and we're happy with the opportunity to have FaceTime meetings. Technology makes working remotely a lot easier and makes #TeamSocial unstoppable!
Content creation
For the rest of the morning, I'm busy creating our social media content for the rest of the week. I try to get a couple hours of work out of the way, because I'm the type of person that gets in a flow and can't stop #Workaholic. Around 1:00 PM, I'll treat myself with a good and filling lunch. This is kind of what my morning looks like during the summer, but during the rest of the year I pretty much race from class to work to class to work to class to work to class to work to class to work to class to work to class and then heading home. I'm completely exaggerating this! Mostly on the weekends, I'll continue creating content and checking off our posts on our content calendar.
Analytics
Most people think that social media is this fantasy world, mainly because of the image social influencers are portraying. There's an analytical side behind posting content and engaging your audience with your posts. It's important to identify who your target market is and what ways are effective ways to engage with that target audience. There are many tools out there such as Google Analytics, Sprout and other tools to analyze the performance of a post. How many people liked, shared and commented on your post can be seen on the account itself. As the administrator of the account, there's other information available such as impressions, clicks, how long did someone spend on a page, what source did they come from? It's a great way to identify trends and see what your audience wants. And it can sometimes be a big puzzle!
I'm constantly checking social media. Every day, I'm looking at our different accounts, posting stories, checking analytics, making adjustments and I forgot to tell you I write blogs for social media too. I guess you figured that out by reading this blog! #BlogLife
As you can tell, there's no specific schedule for my day as I stopped taking you through my day at 1:00 PM. I can tell you that so far, it's been rewarding to work together with Linda and bring our social media accounts to a higher level. So, I wouldn't be a good Social Media Coordinator if I didn't tell you to follow us on LinkedIn, Facebook and Instagram (@projobamsterdam). Now, right now! Don't miss out on new job posts, blogs/articles and many posts about the lovely, fun and hardworking people at Projob!