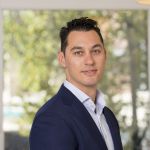 Stephan Dumas
Enthusiastic, Flexible, Result Oriented, Decisive, Service- & Solution Minded
Recruitment Consultant / HR Business Partner
Stephan Dumas is a Recruitment Consultant and HR professional at Projob. What is it that drives him as a person and motivates him
When Stephan starts to talk about football you come to realise that he is not only a huge football fan but also a fanatical football player himself.
"The tournament I won a couple of years ago with our football team was a day that I and my teammates will never forget. The run-up to this tournament and ultimately celebrating our victory was an unforgettable moment! How driven am I when it comes to football? I will be in the middle of watching a match and roaring out how I would do it better, even though I know the reality is that it is harder than you think!"
Recently, Stephan has taken on more responsibility for Projob's internal HR projects. He has had this ambition since he started a degree in Human Resources Management. In this role, he must switch between strategic, tactical, and operational levels. His job, family, evenings with his friends and going to festivals is what makes him a happy person.
This mix of what makes him powerful and enthusiastic aligns with the role he has in our team: he's an optimist and shares his knowledge. Others see him as a loyal, helpful, connecting, flexible and engaged colleague.